After buying a number on Avorra, it can be used as a normal number where employees or users can call you from their mobile or landline and you can answer them on Avorra.
Avorra has a huge database of numbers and you can buy numbers in over 50 countries/regions which also includes voicemail service.
Note: You will need Admin or Manager role rights to buy a number on Avorra. For more information on user roles, see Adding user roles.
To buy a number on Avorra, follow these steps:
Step 1 - Accessing the Numbers tab
After logging on to Avorra, the tab can be accessed using the
option.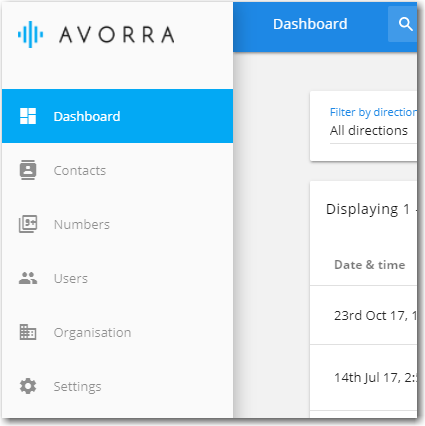 Step 2 - Search for the number
On the numbers page, select the
option.
On the search numbers page, enter the following details:
Option
Description
Location

Enter the country/region for which you want to buy the number.
Optionally, you can also enter a number pattern that you would like to have.
For example: 1234, 67890, 666. 999, etc.

Features

Select the features you would like to have in your number.

Number Type

Select the type of number you would like to buy.

Local/Landline
Mobile
Toll free
Click
Step 3 - Buy number(s)
After the number you searched for is available, use the option to select the number(s) to buy.
Click
You can buy numbers in bulk as well.
Confirm the number(s) purchase by using the

option.
Note: Your credit card (linked with Avorra) will be charged with the amount.
The number can now be set up for use on Avorra. See, Setting up a number.